Wedding band Italy
Wedding band Italy
Italy is a dream wedding destination, perfect for our wedding band in Italy, romantic in every sense of the word. With its picture-perfect landscapes, divine food and wine, and leisurely lifestyle. You can't help but be seduced by the charms of this classical European country.
Our wedding band Four Kicks has performed for many years in Italy. Being based in the French Riviera makes it very convenient for us to travel to Italy for weddings. We travel by van with all our equipment which includes a state-of-the-art sound system for up to 500 guests and lighting for the band and the dance floor.
Booking your wedding band
We get booked at least a year in advance. We advice getting in touch as soon as possible to secure Four Kicks for your wedding. The band will take care of all the logistics. This also includes contacting your wedding planner and the venue owner. From the ceremony to the last song performed by the DJ we will make sure everything runs smoothly. You won't have to worry about anything but having fun.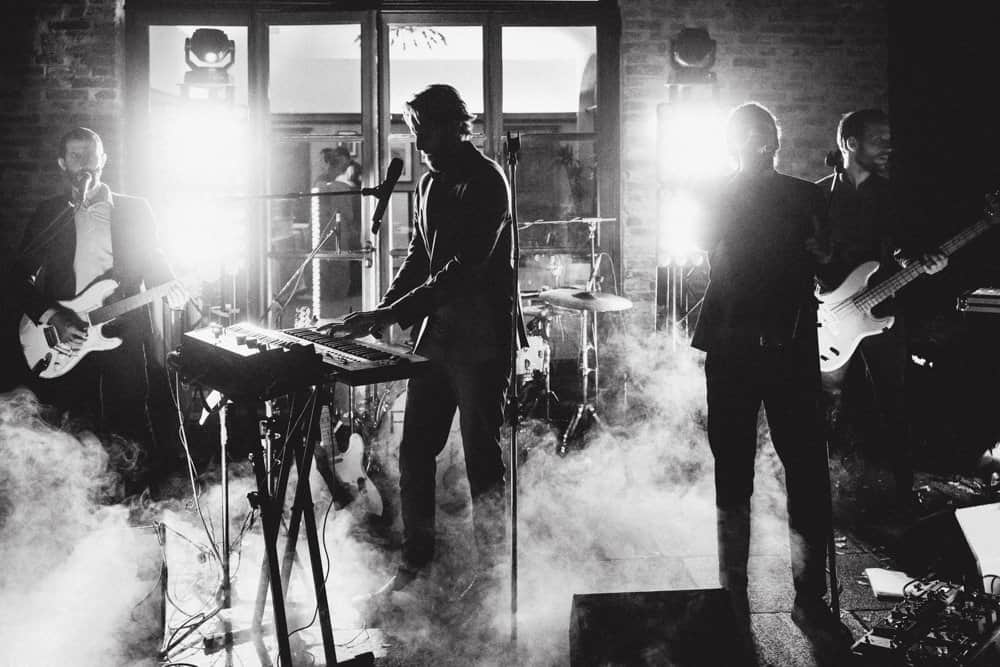 Top wedding locations in Italy:
Wedding in Venice
Very few places in the world are as romantic as Venice. It is has enchanted the likes of Vivaldi, Hemingway, Wagner and Lord Byron and our wedding band in Italy of course! It is a must-see for everyone at least once in their lifetime.  Allow yourself and wedding guests to journey back in time through the ancient cobbled streets, not a car in sight, while marvelling at the handiwork of local artists and savouring the flavours of Italy. A gondola ride through Venice's captivating canals makes for the ultimate love story. 
Wedding at Lake Como
In the foothills of the Alps in northern Italy, Lake Como deserves its reputation as a playground for the wealthy. After all, it is spectacular enough to have captured the heart of George Clooney, who found his 'home away from home' in Lake Como. But even the word 'spectacular' is not enough to describe this famous lake. It is a haven of tranquillity, superb cuisine, majestic snow-capped mountains, and friendly locals. For those in search of complete relaxation and the ultimate stress-free wedding, you will find it in Lake Como. The very heart of Italian romance and history. Check a picture of your wedding band in Italy below.
Wedding in Rome
In complete contrast to Lake Como is the country's capital Rome, a bustling city and one of the most important destinations in the world. A wedding in Rome is rich in flavour, sight, sound and imagination. Very few places in the world offer such contrasts between history and modernity, walking the streets is to travel through the centuries.
Wedding band in Italy on the Amalfi Coast
Unesco describes the Amalfi Coast as an outstanding example of Mediterranean landscape because of its staggering combination of great beauty and gripping drama, coastal mountains plunge into the sea, the colourful towns are surrounded by lush forests. Stretching along the southern side of Italy's Sorrentine Peninsula, the shimmering bays of the Amalfi coast are what dreams are made of, the perfect backdrop for any wedding band in Italy. Complementing the dazzling scenery is amazing local cuisine, including an abundance of seafood. Treat your guests to the tastes and delights of this authentic Italian seaside village.
Wedding in Tuscany 
Tuscany encapsulates everything that is great for a wedding band in Italy, lands filled with vineyards and delicious produce, romantic cobblestone streets, and mesmerising art and history. There are a host of little villages to choose from: Lucca, San Gimignano, Siena, Chianti … the list goes on. Seize the magic of Tuscany for your unforgettable wedding.
If you would like to book our band for your wedding in Italy, please feel free to get in contact.
You can also get in touch with our booking agency for more band options: www.lion-stone.com
The band setting up for a wedding in Lake Como